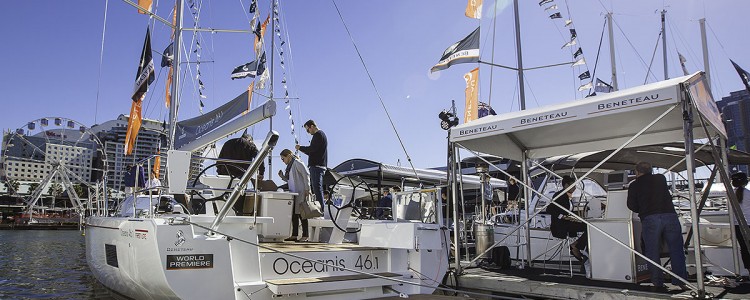 Beneteau confident in the strong vitality of the Australian Boating Market
20 August 2018 | Beneteau
During the recently completed Sydney International Boat Show (SIBS) 2018, Beneteau presented a beautifully arranged stand that included a fleet of 13 models covering all the Beneteau boating sectors, one world premiere, and three Australian debuts. The sailboat and inboard motorboat display was organized by Flagstaff Marine while the outboard motorboat display was prepared by Chapman Marine. Beneteau's dealers based in different parts of Australia had all gathered at the show and gave generous support to deliver a satisfactory sales performance at the show. The number of the models sold on-site was close to 10.

Beneteau is confident in the strong vitality of the Australian market, having witnessed great enthusiasm from the country's boating community at SIBS 2018. This has encouraged Beneteau to carry on investing and launching new models there. 

To align with Beneteau's global strategy of presenting new boating projects at the most important boat shows around the world, the Oceanis 46.1 had her world debut in Sydney. A joy to maneuver, she boasts a much-applauded stepped hull, and has all the features of a large yacht without sacrificing speed. She offers spacious interiors and an efficient deck plan, and the quality of her fittings is unbeatable for a boat of this size. 
Meanwhile, the sister model—the Oceanis 51.1—had her Australian premiere at the show. She features innovative architecture, over 700 available combinations for customization, and a performance version for sailors seeking an exceptional performance.


Beneteau's key models from its inboard motorboat lines were also display outdoors alongside its sailboats. Beneteau revealed the Gran Turismo 50—the flagship model of the sport cruising Gran Turismo line, and the Swift Trawler 35—the ingenious long-distance cruiser. The Gran Turismo, Swift Trawler, and Monte Carlo models were all warmly received.
As well as strong sales performance for Beneteau's sailboats and inboard motorboats, Beneteau's outboard motorboats have a huge market in Australia. Exhibited indoors, iconic daily cruisers such as models from the Antares ranges and the Barracuda fishing range are very popular there. The new generation Antares 9 and the highly-dynamic Barracuda 8 stood out during the show, and several deals were closed.
What's more, Beneteau's stand at SIBS 2018 was recognized as one of the best at this year's show, and received the Display of Excellence Award from the Boating Industry Association in Australia. 

During the boat show, a press conference was organized for media and partners, to introduce Beneteau's new models and product strategy. A Beneteau Soiree was hosted for owners and partners to celebrate the new-season launches. 

With the new boating season to come, Beneteau will continue to present its latest models to the sailing community in Asia Pacific, working closely with its local dealers to build a stronger presence in the region.