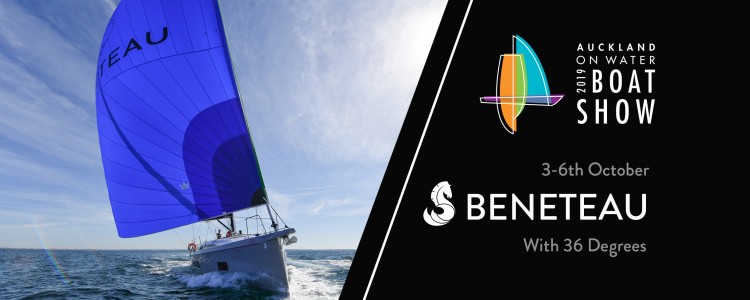 Beneteau at the Auckland On Water Boat Show 2019
5 September 2019 | 36 Degrees News
3-6th October 2019
Award winning Sailing yachts, genre re-defining Trawlers and new generation Powerboats are set to take centre stage at the Beneteau stand for this year's Auckland on Water Boat Show with 36 Degrees Brokers. From the Brokerage team, the incredible Riva Replica will be on display, showcasing Kiwi craftsman boat building at its finest.
The team at 36 Degrees are incredibly excited to welcome a diverse display of brokerage boats and Beneteau signature models, renewed and reimagined. Beneteau has seen exponential growth in the local market and evolved dramatically in the hearts and minds of the Kiwi boating community. Rightfully so, as the brand has continued to push boundaries in naval design, evolve through innovative technologies and stay true to their 130 year heritage as world-class yacht builders.
This year on display get set to see the Oceanis 46.1, Oceanis 35.1, Swift Trawler 35, Gran Turismo 40, and Gran Turismo 50. All, except the OC35.1, form a part of Beneteau's new generation class of production models. There are plenty of design innovations to experience and our friendly team of brokers will be only too happy to talk you through their features.
The Oceanis 46.1 is a highlight model at this year's show, having been crowned European Yacht of the Year in the Family Cruiser category. Loyal to the Oceanis reputation, the 46.1 is hailed for her innovative design and distinctively spacious interior thanks to her stepped hull. The Oceanis 35.1 is a classic best seller and the perfect all-rounder that is both easy to sail, and lively to helm. 
From the Power category, the Gran Turismo 40 and Gran Turismo 50 are the crème de la crème of Beneteau's sports cruiser category. Recognised for their performance ability and contemporary interior, the new generation models feature onboard ship-control technology and a state of the art AirStep® planing hull. GT's are excepted to be some of the biggest and most exciting power vessels at this year's show.  
Impossible not to love, the Swift Trawler 35 sparks a new era and reinvention of the humble trawler. Distinguishable for its fuel efficiency and long-range ability, this new generation Trawler has been engineered with speed in mind achieved with its intelligent semi-displacement hull.   
Innovative new design and construction methods which reduce build time and cost mean the sky's the limit for the future of Beneteau builds. 36 Degrees looks forward to showcasing this range and discussing the future of Beneteau at this year's Auckland On Water Boat Show.
From the Brokerage team we look forward to showcasing the incredible Riva Replica. Elegant in every respect, the roots of the classic Riva go right back to the late 18th century at the turning point of speedboat craftsmanship. This beautiful Riva Replica is a nostalgic take on this heritage model, with the construction and engine makeup of a modern vessel. Built in New Zealand, she is a true testament to the standard of craftsmanship our Kiwi boat builders are capable of. Having garned an immense amount of buzz in the Marine Community so far, we are certain spectators will be amazed at this years Auckland On Water Boat Show with 36 Degrees.
Last but not least...
36 Degrees is proud to announce we will be exhibiting an exciting new Kiwi build Powercat. Images, model specs and more coming soon. Stay tuned for upcoming announcements on this exciting new release.
If interested in a particular model from our lineup, let us know. We will be scheduling VIP tours for some of our clientele and encourage anyone interested to contact the team today.