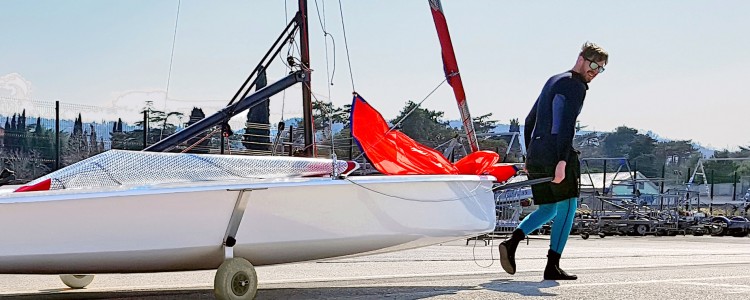 Beneteau & Seascape: New models in the 7th Generation of First's
9 August 2021 | Beneteau
36 Degrees are proud to present an all- new generation of Beneteau Firsts and Beneteau First SE - Seascape edition.
The First SE- Seascape edition combines the iconic features of the Beneteau First range with high performance one design racing. The First SE range builds on the legacy of Seascape boat design.
A key element of the First SE Seascape range is performance. The range features modern planning hulls made with the latest lightweight vinyl-ester vacuum technology, simplified controls, carbon rigging and maximized sail area. High tech one design performance racing is delivered to sailors of all abilities in the First SE range.
The Seascape mission statement: "Inspire people to become sailors. More precisely, expand their comfort zone by connecting to the wind, the sea and fellow sailors."
The First 14 SE is built for the sailors who demand excitement, speed and fun from their dinghy sailing. High tech and high performance, this boat weighs just 70kg, and can be easily lifted on to a cars roof and transported to a wide range of sailing destinations.
The First 18 SE and 24 SE introduce sailors to adventure sailing, with berths and accommodation facilities for exploring distant shores. The carbon rigs in each eliminate the need for a backstay. Simplified controls and manoeuvrability make this boat easy and fun to sail. The First 18 SE and First 24 SE are also trailable and slip launchable, with swinging keel systems.
The 27 SE is the only B category trailable 8m boat on the market with a fully functional interior, making it a versatile race cruiser. Planing at double-digit speeds, this yacht is both exciting and incredibly seaworthy.
At the same time as introducing the First SE Seascape edition, Beneteau has also launched new models of the First 14, 24 and 27.
The First 14 introduces the modern world of fast and planing dinghies to novice sailors. A fun one-design racer, this boat is lightweight easy-to-handle and adaptable.
The 24 is described as a 'smart pocket cruiser'. Perfect for day sailing and club racing, this boat can easily sleep up to 4 persons but at the same time still delivers fun, exciting sailing experience.
The First 27 has also been designed for both racing and cruising, featuring an optimized interior, this boat can do it all, sleeping up to 6 adults and planning in as little as 12kts of breeze. Plenty of sail area and a light vacuum infused hull make this boat a joy to sail.
The First range is entirely trailable, for even more versatility to explore distant shores.