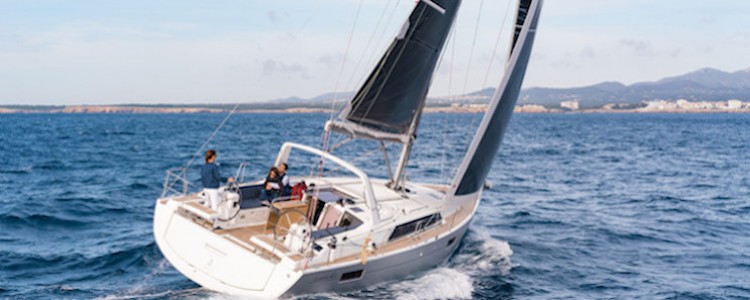 Showcasing Beneteau's latest design at Bay Of Islands Sailing Week
19 January 2017 | 36 Degrees News
Bay of Islands Sailing week is set to unfold in just a few days time and the team at 36 Degrees Brokerage are excited to be amidst the action. 
Dubbed as one of the Southern Hemisphere's premiere sailing regattas and the biggest regatta of it's kind in New Zealand, the three-day contest is a perfect setting to showcase the newest Beneteau on the market while networking with boaties from around the world from 25 to 27 January. 
The Beneteau Oceanis 41.1 which arrived in Auckland late last year will be sailed in the Cruising Island Passage division, crewed by a combination of it's owner, 36 Degrees team members, and guests. 
"It's a great opportunity for people to see the latest model for themselves, check out the new features and take a look inside. This boat offers a tremendous amount of flexibility and as such should prove competitive in it's division as well as being comfortable and enjoyable to sail on," says Conrad Gair, owner of 36 Degrees Brokers. 
The innovative hull design of the Oceanis 41.1 creates extra space on deck and below, and its optimised sail plan makes for a great cruising and fun racing boat. 
As hundreds of boaties are set to converge in the Bay of Islands from Wednesday next week the 36 Degrees flag will also be flying strong and proud from the doorstep of it's new office premises on the wharf in Opua. 
In the wake of a busy 2016 there are still frequent listings and enquiries coming in, and the team welcomes you to pop in and say hi if you're passing by. 
This year marks the 15th Bay of Islands Sailing Week, and with an entry list of 91 boats, plus eight superyachts competing for the Millennium Cup, it's set to be a spectacular three days of racing among the stunning islands which the area is so famous for. The regatta attracts a wide range of yachts, owners, and international sailors with a fun mixture of on water racing and off water socialising. 
Please get in touch to arrange a time to meet with one of our friendly brokers if you are in town for the regatta, or pop into the office to check out the range on offer when it suits. 
We look forward to bringing you stories and images from our race time on the Oceanis 41.1 and encourage anyone interested in taking a look at Beneteau's newest design to get in touch for a personalised tour during the week.
To read more about the Oceanis 41.1 please click here.