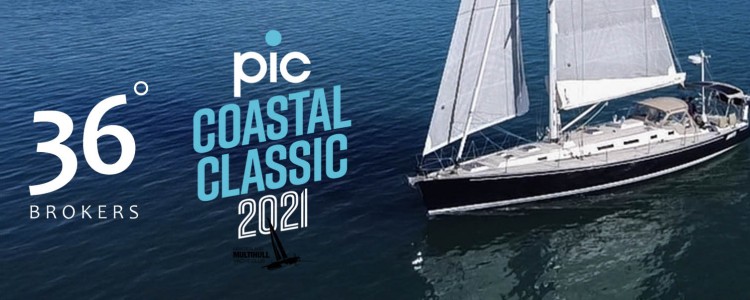 Back Again For The PIC Coastal Classic 2021!
23 August 2021 | 36 Degrees News
36° Brokers are excited to announce we are back onboard sponsoring the Cruising Rally for the PIC Costal Classic 2021 in what we hope will be the biggest year yet!
Much fun was had at last years Rally, with best dressed crew, photo competition and more, so we're back at it again for another year, another round of sponsorship, and more spot prizes to be won!
The Cruising Rally is non-competitive, and a great way to bring cruisers together for the start of the summer sailing season. It's an awesome way for novice sailors to get out there racing, and for everyone to have a bit of fun out on the water.
No wind? Now worries! Check out how teams survived in last years wrap up article!
This year the Cruising division has increased the permitted motoring time to a total of 5hrs! So whether you're looking for a more leisurely ride up to the Bay, or are happy to slug it out, changing sails and scouring the weather map for the best wind shifts, the choice is yours how you run the race!
Here's a brief rundown of what goes on:
Tuesday 14th September - Costal Classic Race Clinic.
Rally starts prior to the race boats, 8am off Devonport Wharf, Auckland
PHRF Handicap not required
5 hours motoring allowed
Spinnakers optional
Prizes for best dressed crew, and best moment captured in our photo contest. 
Pre-event will be hosted at RNZYS in conjunction with event organisers – details released soon.
Meet & Greet for the Cruising Division prior to prizegiving at Hones Beer Garden in Russell.
The Cruising Division encourages all newcomers to sign up and join the action in what is a truly enjoyable and inclusive race. Get chatting amongst your cruiser friends and help us grow this division to the biggest one yet!
To register, head to https://www.coastalclassic.co.nz/
There are more details to come, so watch this space!