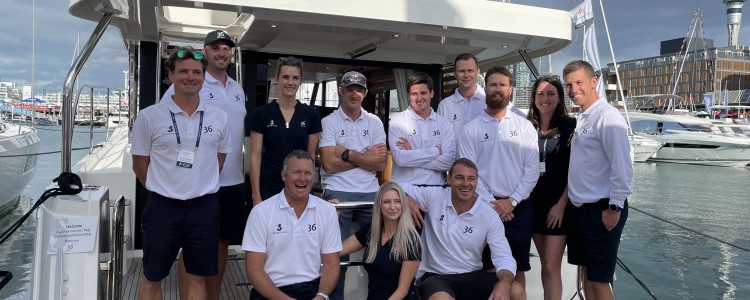 Auckland On Water Boat Show '23 Wrap Up!
29 March 2023 | 36 Degrees News
With a new date and new venue, the Auckland Boat Show 2023 might just be the best one yet! Jellicoe harbour proved to be a fantastic on water area to host the show, and with the new summer dates, we got to enjoy nothing but sunshine for four days straight! 
With so many different kinds of boats on display, it was a great way to get our Kiwi boat goers excited to get out there and go boating.
The BENETEAU stand was alongside Emirates Team New Zealand, and we were privileged to watch the re-fitted AC75 "Te Rehutai" launch daily.
"This year's show was massively exciting, the location was awesome and the weather played ball for the whole event. It was nice to have the restaurant and bars overlooking the whole show. This year had a much more international feel to it, like you would see in the big overseas shows," said Director Conrad Gair.
We welcomed over 2000 people onto our stand this year and were thrilled with the quality of interest in new boats.
The Swift Trawler 41 and Oceanis 40.1 proved the 40ft size category is a popular one, with our sales team now pricing models for a late 2023 summer delivery. 
The Swift Trawler 48 certainly drew a crowd, with much to love about her striking semi-displacement hull, large open living area, and enormous flybridge.
Beautifully setup for the show, the Oceanis 51.1 and 40.1 was unmistakable with their wide beam and large cockpit area. 
The Gran Turismo 32 from our friends at Family Boats proved popular, with much enquiry received on the GT ranges larger 40-50ft models. 
36° Brokers were thrilled to welcome a Beneteau representative Erwan from France this year, with his knowledge of factory schedules and euro pickup options for our clients. 
"There are lots of cool new products coming out of BENETEAU at the moment, it's great to see so much new development happening in the marine sector."

We are excited to be able to offer new models for delivery within a 12-18 month timeframe, with some stock boats available even earlier!
The Yacht Collective also generated a huge amount of interest with shares selling fast on the new Swift Trawler 41.
On the brokerage side of things we had a successful display of boats on our sales dock at Pier 21, and those who were interested were able to come up for a look during the show. Director Conrad Commented "We also had lots of interest in our brokerage boats. The market is correcting itself a bit from the previous huge spike in demand, provided people are willing to price to meet the market, there is lots of buyers out there."
A huge thanks to all those who came to see us, the amazing turnout has a fizzing for next year!