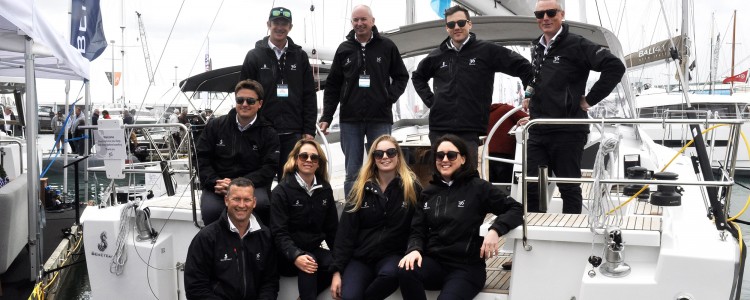 Auckland On Water Boat Show 2019 Wrap Up
14 October 2019 | 36 Degrees News
The Viaduct Harbour came alive with the Best of New Zealand's Marine Industry on display for this year's Auckland On Water Boat Show. Taking place from the 3rd-6th of October in the new Eastern Viaduct area were dozens of Power, Sail and Trailer Boats on display. 
Despite a wet and windy start to the show, 36 Degrees enjoyed four successful days with Brokers very pleased with the quality of turn out. The change in location brought us closer to the heart of the Viaduct with vessels on display for all to see. With the beautiful Auckland city skyline as a backdrop, the Show was an impressive showcase of the NZ Marine Industry.
"The show was fantastically done this year with great set-up and flow. We are very pleased with the turn out and high demand for new boats", says Director Conrad Gair. "There was a large amount of interest for new generation boats this year. Beneteau has always been at the forefront of Naval Design and it was great to see the response from showgoers".  
From the Brokerage side there was "plenty of interest in upgrades. Our strong Brokerage team are now working to assist clients with trade ins". Keep an eye on our Brokerage page for upcoming listings or get in touch if you are after something in particular. 
Nightly drinks and nibbles were fun for all and gave the perfect opportunity to meet with clients one on one. A special thank you to Alistair Gair and Chris McMaster who joined the 36 Degrees team at the stand this year. 
Worldwide demand for Beneteau has grown exponentially. We encourage anyone interested in purchasing to move forward and secure an order. Keep an ear out for a private Beneteau show at the end of this year at the Royal New Zealand Yacht Squadron for those that would like a more personal opportunity to view the range. 
The Yacht Collective
The Yacht Collective was a star player at this year's show, with the demand for syndicate ownership gaining widespread appeal in the industry. The syndicate program proved immensely popular with time poor users who don't want the hassle of handling maintence and cleaning, or for those looking to helm a bigger boat.
 Onlookers where very impressed with the flagship model Gran Tursimo 40, with a new model on order and set to arrive in time for summer. Some hot interest was received for the other syndicate vessels and we encourage anyone interested in the program to get in touch with the team today.