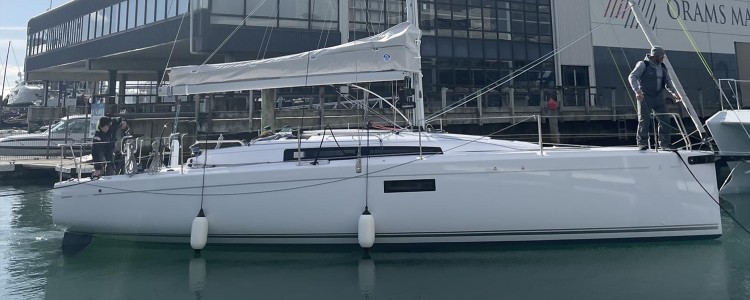 Announcing the Arrival of a Very First First 36 to New Zealand Waters
7 July 2023 | 36 Degrees News
36 Degrees Brokers are thrilled to announce the highly anticipated arrival of the Beneteau First 36, the first-ever model from the new First range to grace the shores of New Zealand. This exciting racer/ cruiser is set to redefine the sailing experience for enthusiasts across the country.
The Beneteau First 36 represents the latest innovation in the esteemed First range, known for its outstanding performance, sleek design, and uncompromising quality. 
"Introducing the First 36 to New Zealand is an exciting occasion for both 36° Brokers and sailing enthusiasts in the country," said Conrad Gair, Managing Director of 36 Degrees Brokers. "We are proud to bring this exceptional yacht to our shores to her ecstatic new owner, and look forward to the chance to showcase her to a Kiwi audience". 
With a length of 10.98 meters and a sleek deck layout, the Beneteau First 36 offers both exceptional speed and supreme comfort. 
To celebrate the arrival of the Beneteau First 44, 36 Degrees Brokers will be hosting an exclusive unveiling event. Prospective buyers, sailing enthusiasts, and the general public will have the opportunity to witness the unveiling of this exciting vessel firsthand and experience its great features up close. Follow our news and social pages to see this announcement!