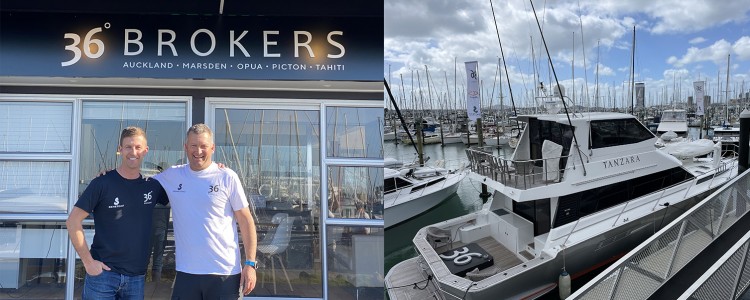 Anchors Aweigh; 36° Brokers relocates to new waterfront office in Westhaven
13 September 2023 | 36 Degrees News
A fresh sea breeze welcomes clients to 36° Brokers' new headquarters in Westhaven, Auckland, boasting an unparalleled view of Westhaven Marina beneath the iconic Sails restaurant. This strategic relocation is a significant milestone for 36° Brokers, reaffirming their commitment to expanding across New Zealand and the South Pacific while offering an exceptional brokerage experience for their clients.
The new premises feature a prime location 9-berth sales dock, with excellent exposure to the bustling foot traffic of the marina boardwalk, elevating the presentation of clients' vessels here in Westhaven.
Owner Conrad Gair expresses his enthusiasm for the Westhaven venture, stating, "We are thrilled with our new retail space here in Westhaven. This strategic move reaffirms our commitment to showcasing our clients' vessels with the utmost exposure. Located in a prime waterfront location, we are delighted to extend our exceptional service not only to Westhaven, but also across Auckland."
General Manager Jono Bakker echoes this sentiment, highlighting the improved functionality of the new location. "We are delighted that this new office space not only benefits our employees with easy internal collaboration but also offers easy access to the docks, streamlining the selling process. We are excited for this next chapter and extend an open invitation to our clients and business associates to drop in and say hello."
This move to Westhaven signifies more than just a change of location; it signals 36° Brokers' unwavering commitment to providing unparalleled service and expertise in the maritime brokerage industry. Come down and say hi!
103-115 Westhaven Drive, Westhaven. Located under Sails Restaurant.