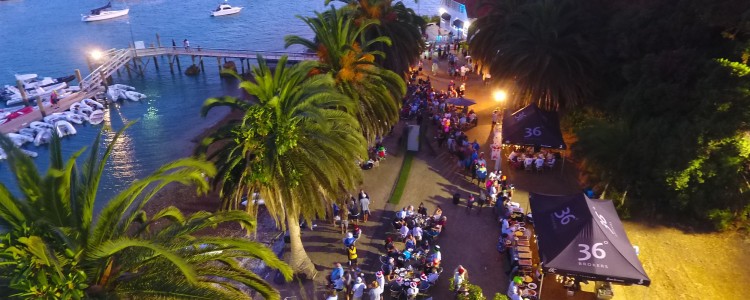 Amongst the Mad action at Squadron Weekend 2019
20 February 2019 | 36 Degrees News
A weekend of sailing, rum tea, crazy costumes and good humoured banter made the RNZYS 'Squadron Weekend' one to remember. 
In the first year of sponsoring the prestigious Commodores Cup Series, of which Squadron Weekend is a highly anticipated part of, 36 Degrees Brokers got right amidst the action on Kawau Island on 15 and 16 February. 
The weekend involves a night race from Auckland to Kawau on the Friday night, and an island race on Saturday followed by the Mad Hatter's Tea Party ashore by Lidgard House. 
From getting out on the water, to mixing and mingling with sailors ashore, there was plenty of opportunity to meet new faces and greet past clients and see their boats in action. 
Staying connected with the local boating community is a big part of the brokerage's ethos, and this series is a fantastic way to show support for a hugely popular event for yachties each year. 
We're already looking forward to next February! 
The next race in the series is to Te Kouma on 9 March. Click HERE for full details and dates on this series see the information on the RNZYS website.