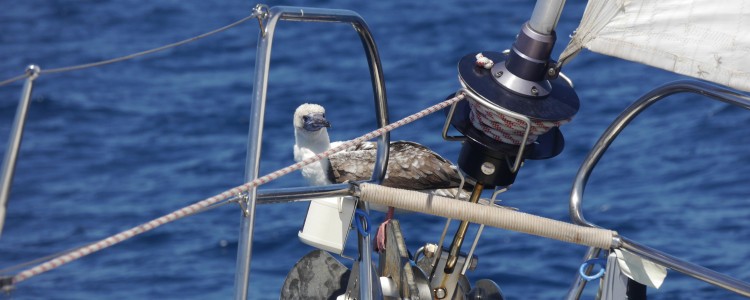 Aotearoa arrival by sail
28 November 2017 | 36 Degrees News
After multiple trips to New Zealand via plane over the last decade, German cruiser Vladimir Martinovic decided his next arrival was to be by boat. The IT specialist had grown fond of the little country and had a vision to explore it from the water. This month Vladimir sailed into the Bay of Islands on his Beneteau Oceanis 50 'Toroa' following a year of cruising throughout the Mediterranean, Caribbean, and Pacific to achieve his ultimate goal of reaching Aotearoa.   
Like many cruisers, Vladimir Martinovic's journey is filled with tales of spectacular wildlife, remote places, and problem-solving at sea. Having bought his boat Toroa just 18 months ago in Europe, he's clocked up more miles over the past year than he has his entire sailing lifetime which started in 2008.
"I had no sailing experience at all prior to that. I started going out on friends' boats, and did a bit of chartering through Europe and eventually got my skippers licence in Germany before buying the Beneteau," he explains.
When looking for a boat to call his own, Vladimir knew it had to be well designed and built, and take him all the way to New Zealand in comfort and safety. "The Oceanis 50 was the perfect size for me. It's spacious enough to have friends and family onboard, but it's also manageable. This one in particular had only one previous owner, and it was well equipped for blue-water cruising, having completed an ARC already," he says.
Two months in France following his purchase in May 2016 gave him the opportunity to fit out the Beneteau with an archway, solar panels, and additional electronics. Although his time in the Mediterranean and across the Atlantic was with the help of crew – his decision upon arrival to Martinique in the Caribbean was to carry on his travels at sea alone, and be joined on land by partner Marion and friends.
Marion's fear of the sea has meant she's refrained from joining him on the long passages. 
"I discovered the term FIFO, (Fly In Fly Out)," she laughs, while also being reassured by hourly waypoint checkins and regular satellite communications. 
After two months in the Caribbean and coming through the Panama Canal, Vladimir took on his first major solo journey, a 4600 mile trip directly to the Marquesas islands. "The boat is perfectly set up for short-handed sailing with a great cockpit layout to keep all the controls in easy reach. There were only a few squalls along the way, but I managed to avoid any bad conditions," he explained.
Coming from an IT background meant the electronic elements of the boat came naturally to him. Downloading grid files, monitoring weather systems, and navigating all became second nature quickly. "I soon learnt that to live at sea you had to be good at problem solving. If you've got an issue in the middle of the ocean, there's no AA to assist!" he says.
From Marquesas' Vladimir ventured on to the Tuamotos where he stopped in at a handful of atolls. It was then on to Papeete in Tahiti before his last stopover in the pacific – Raiatea in the Society Islands.
The final 2300-mile stretch to New Zealand was a wildlife filled, tranquil journey where he was joined by a "hitchhiking" young albatross for a day, fished along the way, and let his solar panels soak up the southern hemisphere sun.
There was no jetlag on this arrival to New Zealand.
"It was really amazing to arrive by sail and know I had made it," he says.
Currently enjoying the marina and services offered in Opua with Marion, Vladimir is looking forward to seeing the rest of New Zealand by boat and plans to cruise the length of the country over the next six months.
To see the full range of Beneteau's currently offered new please click here. The NEW 51.1 in particular is an evolution of the 50 – promising to be bang on trend and ultra-customisable. Check out the photos HERE.  Otherwise feel free to browse our listings to see similar second-hand yachts offered.