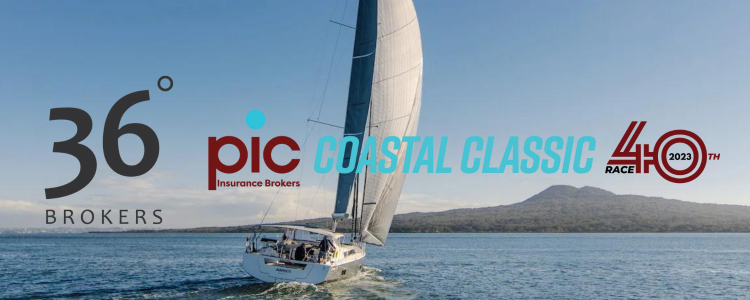 40th PIC Coastal Classic Race!
16 June 2023 | 36 Degrees News
It's time to muster your mates and get ready for the opening race of the summer season! The Coastal Classic is celebrating its 40th race from Devonport, Auckland to Russell, Bay of Islands. Join in the Cruiser Rally division, proudly sponsored by 36 Degrees Brokers for the 6th year running. This division is designed for the avid cruiser who wants to be a part of the Coastal Classic atmosphere and sail up the coast alongside the race fleet. With spot prizes up for grabs and a meet and mingle in Russell before the main prize giving event, it's sure to be a fun time.
The great race North starts on the morning of Friday, 20th of October and ends Saturday 21st of October. The rally will have a head start before the main event to allow you to cruise and watch the racers fly by.
 If you're interested in entering, entry information can be found at the Cruising Rally page.
 Two race clinics will be held online for you to ask questions and learn from a team of experts. Details about these clinics can be found at PIC Coastal Classic Facebook or by subscribing to the PIC Coastal Classic newsletter.
 Make sure to download the Predict Wind Tracker, as all boats are required to carry it for the whole race. This will enable supporters to follow the event and keep track of your progress.
 All boats with Cat 3 will be eligible to enter the rally, and PHRF handicap is not required. You will be able to use your engine (conditions apply) and spinnakers are optional. Spot prizes will be awarded. Don't forget to join in the special prizegiving event in Russell!
Don't miss out on this amazing opportunity to be a part of the Coastal Classic.