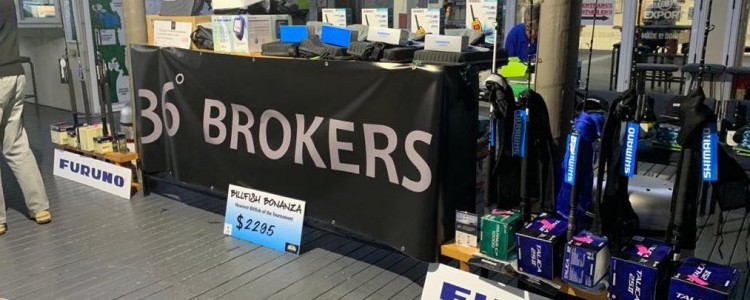 Great turnout at 36° Tutukaka One Base Tournament
30 March 2020 | 36 Degrees News
We're proud to have backed this premiere fishing event, with a great turnout and much fun had last month in one of Northlands angling hot spots. 
Here's the re-cap from our partners at the Whangarei Deep Sea Anglers Club for the event from 19-21 March. 
"What a great turnout!! Shortened to 3 days due to the inclement weather, some 50 boats and 150 anglers took part in the 36 Degrees Tutukaka One Base Tournament in conjunction with Air Vanuatu & Furuno.
Sorry to say that the fish remained elusive, with many more sightings than actual hook ups or drops, but we still managed a contest tally of 1 Yellowtail Kingfish, 4 Yellowfin Tuna, 1 tagged Stripey, 1 tagged Broadbill and 3 landed Marlin.
Heaviest Kingfish went to Marlene Gentry on Catchem2 with a Kingy of 10.64 on 8kg line.
Heaviest Tuna went to Peter Morrison on Euro with a Yellowfin weighing in at 24.6kg.
The team on Escapade took out the tag and release Billfish section with a tagged Broadbill estimated at 70kg to Aaron Armstrong.
It was the team on Silva Fox (who just happened to include our major sponsors 36 Degrees!) who took out the Heaviest Billfish section with a nice Stripey weighing in at 121.8kg to Chris Rouse. The team also took out the Billfish Bonanza to the tune of $2,295!!
Taking out the "Overall Most Points Billfish" section with their one tagged Stripey and one landed Stripey was the team fishing on "Catchem 2" – Skipper Kerry Gentry & Angler Marlene Gentry who will be winging their way to Vanuatu with air fares courtesy of Air Vanuatu and 7 nights accommodation in the beautiful Havannah Harbour, Vanuatu courtesy of 36 Degrees, Havannah Harbour Fishing Charters and WDSAC – Vanuatu here they come!
A HUGE thank you to all of our many Sponsors, and in particular to our long standing Sponsors Air Vanuatu and Furuno, and of course our new Major Sponsors 36 Degrees Brokers!!"
 For more information on the Whangarei Deep Sea Anglers Club please click here.