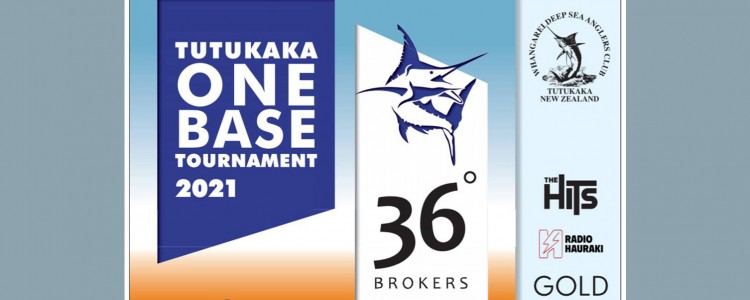 36° Brokers Tutukaka One Base Tournament 2021
2 March 2021 | 36 Degrees News
** POSTPONED new dates: 24th-27th March! The inaugural 36° Brokers Tutukaka One Base Tournament is just around the corner! Come join us at the Whangarei Deep Sea Angler's Club (WDSAC) for one of New Zealand's most prestigious fishing tournaments, attracting anglers from all across the country for a keenly contested, fun-filled event.
From the 24th-27th March, the event will encompass four days of competitive fishing on the stunning Tutukaka coast, with a minimum prize of $30,000 to be won.
The tournament runs from Thursday to Saturday, leaving Sunday free to relax and recoup after an epic few days on the water. Fish during the day, and join us at the club by night; we look forward to a couple of great days fishing, catching up with mates and the chance to win awesome prizes.
Looking back at last year's event, it's easy to say it was incredible turnout and event despite a few set backs with the weather. The event delivered on an action packed few days, check out the results and comments from the club:
"What a great turnout!! Shortened to 3 days due to the inclement weather, some 50 boats and 150 anglers took part in the 36 Degrees Tutukaka One Base Tournament in conjunction with Air Vanuatu & Furuno.
Sorry to say that the fish remained elusive, with many more sightings than actual hook ups or drops, but we still managed a contest tally of 1 Yellowtail Kingfish, 4 Yellowfin Tuna, 1 tagged Stripey, 1 tagged Broadbill and 3 landed Marlin!"
See the write up from last year's event here >>
For more information on this event please visit the WDSAC website and Facebook page.
The Whangarei Deep Sea Anglers Club is an aquatic social club based at Tutukaka, Northland. Our members come from fishing, diving, and yachting circles as well as local residents. At present there are over 1,300 members. Membership grants access to the club amenities, with the clubhouse only minutes from the fishing and blue water that is envied by anglers and divers worldwide.