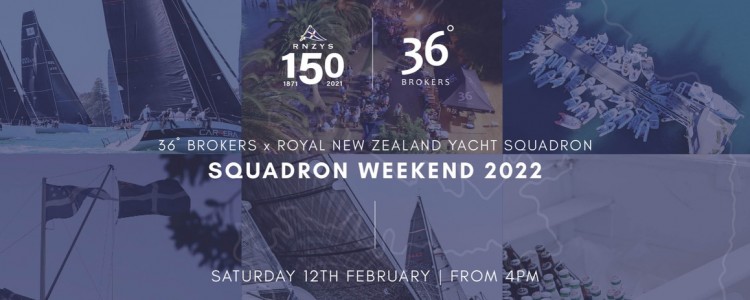 36° Brokers Squadron Weekend Full Steam Ahead!
27 January 2022 | 36 Degrees News
Great news! 36° Brokers Squadron Weekend is still full steam ahead and we look forward to seeing you on the Weekend of the 11th and 12th Feb. The event is now on water with a few changes in place to suit the Red Light setting...
Check out the announcement from the RNZYS organisers...
Celebrate our annual Squadron Weekend and boogie the night away on your boat with the incredible one man band Josh Leys playing from the Lidgard Jetty - don't worry, you'll be able to hear it! We are bringing extra large speakers and the ability to tune your boat stereo into the sound!

Dinner will be delivered to your boat by our team along with a beverage pack for the crew from Asahi Beverages and Pernod Ricard. Boat registration and crew numbers are essential for the dinner packs and beverages, so make sure you buy your tickets HERE, contact reception on 093606800, email reception@rnzys.org.nz or stop by the RNZYS

Skippers can purchase tickets for their crew at member pricing ($25pp), so make sure you get your tickets today at this exceptional value!

Some great prizes are up for grabs for best dressed boat, best dressed crew and our race prizes. There will also be fantastic spot prizes and gifts on offer, raffles and the usual fun! 

Families with kids are welcome to come ashore and use the lawn area for a picnic where some kids games and the playground will be available.
We also have will have two 36 Degrees Brokers Commodore's Cup races over Squadron Weekend – the Night Race to Kawau on the 11th and Round Kawau Race on the 12th. All divisions, except non-spinnaker and multihulls, will have a mass start for the Night Race to Kawau as this is also now a Gold Cup race. Enter the Commodore's Cup races HERE and get all the information you need HERE.

Mask use and vaccine status is up to each boat owner to decide on.

We look forward to seeing you at Squadron Weekend 2022 for something a little different this year, but just as fantastic as always!