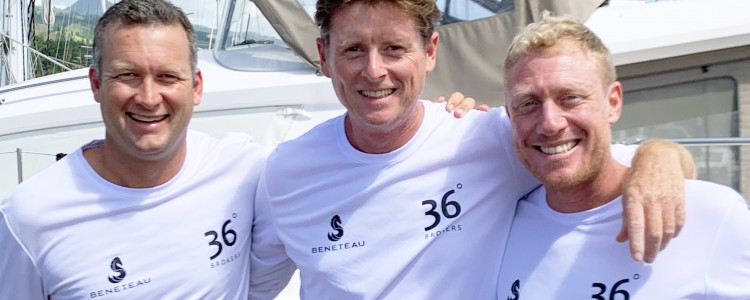 36° Brokers expands services to South Pacific
8 April 2020 | 36 Degrees News
Welcoming Éric Pinel-Peschardiere to the 36° Brokers team signals an exciting milestone for the company's expansion across the South Pacific region. 
Éric joins Mathieu Voluer, in one of French Polynesia's best cruising hot spots, Tahiti, and brings a wealth of local knowledge to the team, offering high-end brokerage services to cruisers on the ground.
36° Brokers owner Conrad Gair says Tahiti is growing it's reputation as a good spot to list, sell, upgrade, or maintain cruising vessels. 
"It's an easy place to reach for viewings, and geographically it's convenient for much of the South Pacific region to get to. Cruisers who choose to end their journey in Tahiti can be reassured with the quality of marina facilities, and also services provided in the area to maintain the boat while it is on the market," he explains. 
Cruisers wanting to sell can also continue their journey, using Tahiti as a location to come back to when viewings are requested or services needed. 
"It makes sense for us to grow our presence in the region. There's a lot of offshore cruising vessels including big multihulls and passage makers that suit our market well, and it's great to be able to offer premiere brokerage services to these owners," he explains. 
Conrad is rapt to have Éric join forces with Mathieu on the island, and says his insight into the region will be a great addition to 36° Brokers.  
Based in Tahiti since 2000, Éric's love for boating spans many years sailing hobie cats as well as a 46ft catamaran which he's used for extensive family cruising throughout the Caribbean and Transpacific. 
Eric is now the vice president of Voiliers en Polynesie, (Sailing Boats Association Polynesia) and has a wealth of boating networks and local knowledge. 
"We're really looking forward to working with Eric and Mathieu to bring world-class brokerage services to owners in the area. Having key people on the ground in these cruising hubs is vital for personal interaction and on-hand knowledge," Conrad adds. 
For more information on Eric and Mathieu check out their profiles on our team page here.