Swift Trawler 41 Fly 1/6th SHARE
Asking Price
NZD $200,000
Boat Arriving Spring 2021, Ready for Summer Boating!
1/6th Share + Annual usage fees
Buying a yacht can be both costly and time consuming business, one that demands high initial investment, annual running costs and the ongoing hassle of maintenance and servicing your vessel. This is an opportunity to be a part of a yacht syndication which gives clients a complete yachting experience without the added stress or hassles of sole boat ownership.
On offer from the ultra-successful Beneteau Swift Trawler range, The ST41 Flybridge is a practical seaworthy cruiser with a strikingly stylish design. Encompassing excellent cruising range and ample living space with an astonishing 7 berth layout.
Key Features:
Fuel efficient with 5L per NM from 10 to 23 knots.
Peak speeds of 23 knots.
Generous flybridge with aft lounge, fully equipped bar, grill and fridge.
Forward adjustable sun lounges.
Convertible saloon sofa to double berth.
Galley and bar top located aft.
 DISCOVER MORE ABOUT THE ST41 HERE
The Yacht Collective syndicate offers:
54 Bookable Days Per Year
Plus Unlimited Standby Day Access - if the boat is available you can book for a nominal fee (conditions apply).
Hassle Free Boating:
Your boat is professionally managed with all servicing, regular checks, cleaning and maintenance taken care of.
Professionally Managed Syndicate:
You turn up. You walk onto a clean, well- maintained boat complete with fresh linen ready to go. You sail away. And you unwind and relax. On your return to the marina you hand your boat back and head home.
Limited experience? We can support you!
We offer a comprehensive handover to every new owner. Professional skippers can be arranged to help gain confidence in your handling abilities.
*NZ Boat Share ST41-3 Ltd is the issuer of the shares subject to this offer. The product disclosure statement including the application form for the offer can be obtained by emailing info@36degrees.nz, calling 09 903 1001. An annual use charge and rules applying to the use of the boat apply.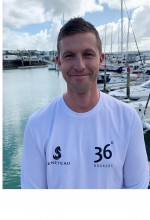 For Full Inventory Contact:
Jono Bakker