*Please note photos are of this Riviera's 5000 sister ship, photoshoot TBC when COVID-19 restrictions permit.*
The Riviera 5000 Sport Yacht Sedan offers an exceptional balance between family cruising and comfort. Combined with the renowned and well-built aesthetics of a Riviera, it is the perfect summer home away from home.
Her large cockpit allows you to make the most of a beautiful and relaxing afternoon anchorage, as well as entertaining friends and family. When needing an afternoon swim her hydraulic transom is the perfect leisure centre for an afternoon in the water.  
With the added efficiency of a tender garage storing tenders is easy and keeps the boat clean for family rest and relaxation. With a comfortable cruise speed of 21 knots leaving your marina on a Friday evening after work to head out to your favourite bay is simple work. 
Get in touch with Harry below today for a full inventory and further information.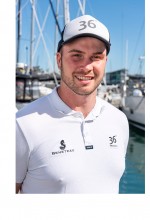 For Full Inventory Contact:
Harry Clark