President Pilothouse 63
Asking Price
EUR €587,000
If you've ever dreamt of circumnavigating New Zealand, or living out your days cruising the Pacific islands, this President Pilothouse 63 is for you. With a glamorous interior; feel like a king on a floating palace. 
Decked with all the gear you need for long-range cruising including water makers, generators and an independent fuel filtering system. Equipped to get you the distance, the possibilities are endless.
The classically styled interior is both spacious and light filled. Interior/ exterior flow is well setup for entertaining, with all the comforts of home. Onboard camera system with views in and around the boat provided much needed additional security and peace of mind while tied up.
These are only a few of the many features of this boat, contact the team to find out more.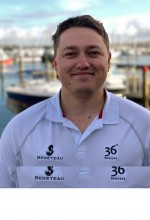 For Full Inventory Contact:
Jeremy Picot