Tennant Open Ocean 46
Asking Price
NZD $845,000
Stock up your full sized fridge and freezer for the duration, this is a journey you won't want to end.
The 14-meter power catamaran 'Garfield' has all your cruising options covered. Whether you're exploring New Zealand's beautiful coastline, heading out fishing, or venturing further offshore, this sturdy Kiwi-designed boat is your very own floating bach. She's a perfect blend of comfort, functionality, and fuel efficiency, while offering plenty of space for the whole family, (plus those extra guests...!)
An entertainers dream and a fisherman's delight, the 360 degree views from the galley and spacious saloon are perfectly complemented by the seamless indoor-outdoor flow and beautiful modern interior. The smart three-cabin, two-bathroom layout can sleep up to eight people in comfort by utilizing extra berths in the saloon and flybridge.  
Designed as a displacement hull for fuel efficiency at cruising speed, this fine craft will take you all the way to Fiji or Australia on just one fuel tank while also being able to zip along at 20 knots if times' getting away on you.  
Built at Alloy Yachts in 2016, 'Garfield' is a custom design with a huge draw card being the low maintenance aluminum construction. Peace of mind is yours, even in the roughest of seas, as her structural integrity is second-to-none. This, coupled with huge fuel tanks and water capacity, makes for stress free cruising if you do choose to venture further offshore.
Get in quick to arrange a viewing and see the workmanship, style and functionality Garfield has to offer for yourself. 
Garfield was reviewed in April 2017 by Boating NZ Magazine. Check out the review here. 
Still being enjoyed by her current owner, the boat embarked on a summer journey to once again prove why she's a catch. Read all about it HERE.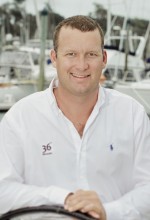 For Full Inventory Contact:
Conrad Gair