Monte Carlo YACHTS 70
Asking Price
EUR €1,990,000
This is serious value here. Owner has ordered a bigger MCY, hence the incredible price drop. We have partnered with our dealer network to bring this stunning MCY to New Zealand.
A serious family yacht, built for comfort & entertainment. Monte Carlo Yachts 70 designed by Nuvolari & Lenard has won numerous design trophies around the world. The lines and interiors set her apart from the rest of the flybridge motor yachts while keeping an elegant and timeless character.  Modern sleek design elements such as the carbon hard top blend with timeless features like the flared bow or the hull round windows. The forward lounge area and the Portuguese bow are unique Monte Carlo Yachts creations. The interior has been appointed with the finest woods, ladder, fabrics, marbles and stones.
This Monte Carlo Yacht has had a full time crew of 3 keeping her in a pristine state better than new. The cabins have rarely been used by the meticulous owner and she has never been chartered.  Her equipment list is extensive featuring items like two Seakeepers, stainless steel chain and anchor. It is evident that this is a luxurious yacht that has been highly specified and thoroughly looked after. 
**Price Plus Taxes if Applicable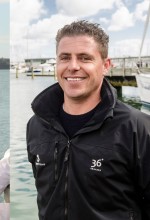 For Full Inventory Contact:
Shaun Sutherland