Lagoon 42
Asking Price
NZD $849,000
The Lagoon 42 impresses with style and performance and is one of the most in-demand boats on the multihull market of today.
This superb 2019 Lagoon 42 maintained owners version is carefully and only little used by her owners.
Current owners are second owners and have never been used in charter.
They bought her to sail from the Mediterranean Sea to French Polynesia where they decided to sell. The boat is registered in New Zealand, but the import taxes are not paid.
The setup of this Lagoon 42 is definitely different from others. If you are looking for a self-sufficient renewable energy boat… she is yours.
The current owners invested a lot to have a comfortable floating home with a full clever self-sufficient set-up to get more than enough energy all year long onboard (12 KWH Mastervolt Lithium and 3200w solar panel, 3kw inverter and 460w silentpro wind generator), so no need to use petrol or diesel to produce energy!
She has been also upgraded from the factory with 57hp engines, B&G Electronics, and has recently been fitted with Starlink, ensuring you are connected even when cruising offshore.
She is available in Tahiti. No tax paid.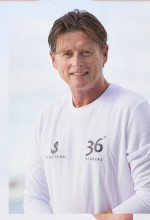 For Full Inventory Contact:
Eric Pinel-Peschardiere