JPK 45
Asking Price
EUR €535,000
The efficiency of the JPK is not any more to make in the championship IRC so much coveted by the manufacturers.
The JPK 45 takes again the spirit of the JPK 38 and benefits from a volume of superior hull to accept more load for the "long cruise" and to bring even more comfort, at sea as at the stopover, while keeping marine strenghts which made the fame of the mark.
The fundamentals of the JPK 45 :
- A perfectly balanced hull design;
- A solid construction in infusion type "safe" but light, fast, marine, stiff to the sail, reliable and comfortable at sea performing to the upwind and downwind (Twin rudder).
- A modern, bright and warm interior concept adapted to the sea as well as to the port of call, to sunny latitudes as well as to southern destinations 
- A large cockpit open to the rear which allows easy access to the water, 2 helm stations where all maneuvers are concentrated. The doghouse offers a perfect shelter for the watches.
- Reliable peripheral equipment (engine, fittings, pumps, fridge, etc...); 
The JPK 45 was elaborated in this spirit of the mix " race / cruising " able to make high average speeds without too much soliciting the pilot or the captain and to keep the passengers in a total comfort.
Built in a spirit of simplicity, comfort and refinement have come to complete a perfect balance allowing to enjoy the navigation without any constraint and easy maintenance.
"MAKATEA" has been carefully equipped and customized by its owners:
- Performance : High performance powerplast sails, NKE electronics, a double Gyropilot NKE,...
- Comfort: Aquabase 65L/h watermaker, electric winch, Wallas gasoil stove and induction, 700w solar panels, Lithium battery pack, wind generator, complete insulation of the boat with Eberspacher heating for austral sailing, bowthruster,...
The perfect boat for those who want to enjoy the anchorages... without loosing time in navigation!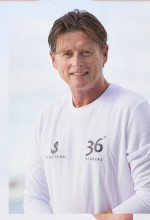 For Full Inventory Contact:
Eric Pinel-Peschardiere