Intrepid 370 Centre Console
This one-of-a-kind vessel is the fastest non-race boat in Auckland with the incredible power to reach a whopping 65 knots, or 120km/h. 
Powered by twin 627HP Sevens engines, the Intrepid 370 Centre Console is a tribute to her current owner's desire to settle for nothing less than the absolute best.
A much more affordable option than a helicopter which is what you'll need to match her passage times, this American build has a strong global reputation and wide-ranging appeal. 
Chic and stylish with her cool matte grey paint job, there's plenty of features aboard the Intrepid to maximize a full day out on the water. 
The boat has just undergone a full refurbishment including hull strengthening, and is presented in fantastic condition. 
If you're after the ultimate day boat for summer, this is it. 
Get in touch with Conrad below for more details.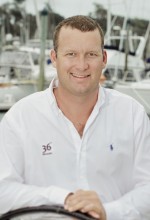 For Full Inventory Contact:
Conrad Gair