Herley Electric 3400
Asking Price
NZD $849,000
Step into the future with the Herley Powercat 3400! It's not just a boat; it's the ultimate cruising experience. This beauty is a result of a fantastic partnership between Roger Hill and the folks at Herley Boats in Tauranga, and it's all about top-notch design, high performance, and ease of use.
 Beneath the sleek decks, you'll find one of the world's most advanced power systems. It's got a hybrid setup, so you can go all-electric, stick to diesel, or even run both at once for maximum oomph. And let's talk control – you can pick your mode, from eco-friendly electric for zero fuel burn to a performance boost for some serious speed.
 Inside, you've got a fully-equipped galley and a roomy saloon with plenty of space for entertaining. Slide open those doors, and you've got a big cockpit area where the action happens. There's even an island with seating, fresh water, a BBQ and a place for all your fishing gear.  Down below, you'll find two comfy twin cabins and a separate toilet and shower for everyone on board.
 This boat isn't just for show – it's ready for action. Whether you're planning a coastal fishing trip, a day out with friends and family, or a weekend escape, the Herley Powercat 3400 is your ticket to unforgettable moments on the water. It's all about style, performance, and practicality, and if you care about the environment, this vessel won't leave a big carbon footprint in its wake.
 Ready to experience this tech marvel? Come test it out! You won't be disappointed!
**TAXES to be paid (if applicable)**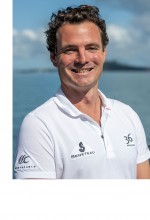 For Full Inventory Contact:
Laurent Boudou