FPB64 Dashew - Offshore Motor Vessel
A feat of engineering and design, the FBP64 is true world explorer. A rare find on the market, this vessel is from a range which is fast growing in popularity for excellent sea keeping abilities, structural integrity and functional living spaces. 
And if you see this one on the high seas you may well think she's altered course from her Navy fleet… Yet inside her hardened shell lies an extremely well appointed and practical living space with all the modern conveniences of the 21st century.
The brain child of Steve Dashew and built by New Zealand's Circa shipyard in Whangarei, the FPB64 is a product from decades of knowledge and experience. 
Of note is the design philosophy which includes:
·
High average cruising speeds
·
Heavy weather capabilities
·
Structural safety for all weather conditions 
·
Simple, efficient and user-friendly systems which aren't generator-dependent.
·
Comfortable and practical onboard spaces
·
Huge fuel capacity
·
Low profile exterior which conceals a luxurious interior. 
Considered the ultimate long distance cruising yacht, the FBP64 has been kept in pristine condition by current owners, comes immaculately presented, and  is ready to view today. Get in touch with the team to see this one for yourself.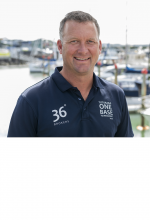 For Full Inventory Contact:
Conrad Gair