Feral 50
Asking Price
NZD $249,000
HUGE PRICE REDUCTION!!
Maxi Jazz is a Feral 50 performance cruiser catamaran from the designer Nic Bailey. Nic Bailey is well-known for the design of Impossible Dream, a catamaran designed to be sailed single-handed across oceans by a wheelchair user.
Maxi Jazz was constructed by Waikato Marine Composites (WMC) under Kevin Dreavers master hands and the current owner. WMC's past projects include K723, Future Shock, One Step Beyond, Heaven Can Wait, Paddy Wagon, Peacemaker, Beale Yacht Designs, Young 88, Elliot Yacht Designs, Farr Yacht Designs, Rodger Land Yachts, Cooksons, & Eagle Yachts.
She is fully vacuum bagged Carbon/Kevlar on a 15mm Core cell and weighs 4.5T!
Mast and Boom are carbon as well as the daggerboards and rudders. The rudders have been designed by John Hughes.
She is powered by 2 Diesel YANMAR 15HP, and is shaft driven with very low engine hours (less than 300h).
The layout is 4 cabins 1 head with the galley on the port hull.

Motivated Vendor has dropped the price drastically, so get in touch now with Laurent below and organise a viewing.
For further information or to organise a viewing, contact Laurent today!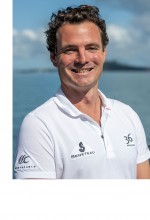 For Full Inventory Contact:
Laurent Boudou