Crowther 40 Modified
Asking Price
NZD $230,000
Ave Gitana comes from the drawing board of highly successful multihull designer Lock Crowther, built in New Zealand by Grant Wichman and launched in 1991 for legendary Australian sailors Ian Johnston and Cathy Hawkins. 
Reknown for designing seaworthy, performance orientated vessels, this one in particular is famous for it's 'bulbous bows'. This is a measure to reduce pitching, hence increasing speed when sailing upwind in a swell. It is regarded as one of the most spectacular and iconic performance trimarans around. Designed for shorthanded ocean racing in the demanding conditions of the Tasman and North Atlantic, Ave Gitana is still roomy enough for 2-4 people to comfortably enjoy extended cruising. It has sailed over 95,000 nautical miles since it's launch, and set the new Solo Tasman 2014 record despite unfavourable conditions. She has a rating similar to a TP52, and continually keeps up with these boats in coastal racing.  
Ave Gitana was rebuilt 10 years ago with a new mast by Mastrom as well as new rigging. Another rebuild was completed two years ago, including a new curved aft beam. This enables the leech tension to be kept at wide wind angles by carrying the traveller all the way around it's sheeting position. In addition to this the transom was extended and the cockpit redesigned, along with new sails and primary winches. The latest development for this boat is a 15kW electric sail drive motor and a 15kWh lithium-Ion battery pack. This in itself is a very inspiring set up on a boat which has been continually upgraded, re-fitted, and maintained to a high standard by the current owner. Also equipped with a great sail wardrobe including mainsail, furling genoa, hanked staysail, A2, A3 and Code 0, plus a container of spare parts including spare main and genoa, as well as the old Lombardini diesel engine. This is a great set up for the racing enthusiast. 
Additional points of interest include the fact this boat is the sistership to Crowthers' famous trimaran 'Balena', also named Bullfrog, which placed 2nd behind Peter Blake onboard Steinlager 1 in the around Australia race. Lock Crowther's designs have always turned heads, with another example being Bandersnatch which won the Sydney to Hobart multihull race in 1996. 
All in all this is a fantastic opportunity for someone wanting a performance orientated multihull with loads of extras and a solid racing history. Located in the Bay of Islands, get in touch to arrange your viewing today.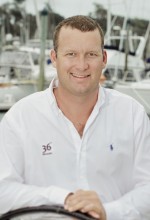 For Full Inventory Contact:
Conrad Gair