Chris Craft Cruiser Rebuild
Asking Price
NZD $110,000
Vintage lovers, classic enthusiasts and believers in quality craftsmanship will turn heads at the sight of this incredible 2019 rebuild. This original and rare NZ cruiser has been fully restored, reupholstered, re-chromed and is ready for her new home. With an original Brin Wilson Hull from the 1960s era, along with the classic Chris Craft lines, this iconic vessel is a nostalgic nod to the quality craftsmanship of yesteryear.

In pristine condition, some of the extensive rebuild work includes:

Stripped back hull back to original timber inside and out. Extended out 1.8m with timber to match original bones
Hull fibre glassed for reinforcing, then fully bogged and faired
Professional exterior paint job
All new interior upholstery
Professional Chrome finish

The 2016 reconditioned 4.3L Mercuriser TKS engine features a straight shaft with velvet drive transmission. Her finishing timber is Mahogany boarder with teak and holly inlay finished with 18 coats of varnish. All deck hardware is from the traditional era and has been fully reconditioned and professionally re-chromed.

With the fabled Chris Craft in mind, these types of boats have held the imagination of countless presidents, celebrities and icons of decades gone by. Its reputation for quality and style has never waned. This rebuild has been done with upmost respect and authenticity to this legendary era and is ready for fun with her new owner today. Contact us for more details and specs on this incredible vessel.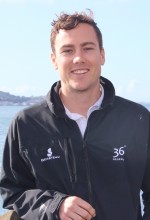 For Full Inventory Contact:
Russell Hopper