Alan Mummery 52
Asking Price
NZD $735,000
Capistrano, a magnificent 52 ft aluminium sailing vessel, was meticulously constructed by an experienced New Zealand boat builder for his personal use. The builder poured a decade of effort into this labour of love, incorporating his vast knowledge gained over 35 years of building custom boats. The design and fit-out of Capistrano were executed without any compromise on expenses, ensuring that only the best systems were installed. The vessel's current serviceability stands as a testament to the builder's philosophy and commitment to quality.
Capistrano was specifically designed to be a high-latitude boat capable of tackling the challenging conditions near Cape Horn. Its construction and design prioritized ample ventilation and high-end insulation, allowing for comfortable cruising even in tropical regions.
The cockpit of Capistrano is well-protected by a hard dodger and Bimini, providing shelter from the elements. The toughened glass windows ensure unimpeded vision, while the Bimini serves multiple purposes—it allows access to the boom and provides a convenient location for solar panels. The binnacle features a top-quality Whitlock helm with fully encapsulated cables running to the Quadrant, ensuring precise and reliable steering. The cockpit area can be enclosed with canvas and clears, offering flexibility based on weather conditions. Sail handling and reefing duties can be efficiently carried out from this area with the aid of the main electric winch.
Features Include:
• Coach house (where the majority of fittings are attached) solid Kauri glassed over.
• Many fittings, not commercially available, were custom-built for the project.
• Top-of-the-line windlass, steering system, stanchions, rigging.
• The electrical "above earth" galvanic isolator and monitoring built in.
• All electrical equipment is isolated from the hull and bonded.
• Fuel lines and gas lines are run in stainless steel and isolated from the hull.
• Aluminium fuel tanks are integral.
• Four stainless steel water tanks built with baffles.
• Passive ventilation keeps engine heat where it should be,
• New Lugger generator.
• Through hulls are flush, connected with high-end commercial marine serviceable seacocks feeding bronze raw water strainers.
• American white oak trim and white epoxy painted.
• The saloon settee and nav station are trimmed with high-quality leather.
• Triple wire lifelines.
Capistrano's remarkable capabilities are exemplified by its successful circumnavigation, including voyages through Cape Horn, the Falkland Islands, South Georgia's, and the Cape of Good Hope. The vessel's exceptional build quality and fit-out will undoubtedly be noticed and appreciated by those who inspect it closely. The true extent of its craftsmanship and strength can only be fully appreciated through personal inspection.
For further information or to organise a viewing, contact Paul today!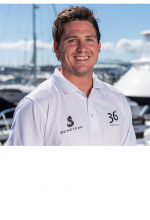 For Full Inventory Contact:
Paul Richardson