1/6th Share NEW Beneteau Gran Turismo 40
Asking Price
NZD $149,500
Exciting new Offer - 1/6th Share of Brand New Beneteau Gran Turismo 40 $149,500 per share. 

Buying a yacht can be both costly and time consuming business, one that demands high initial investment and annual running costs, not to mention the hassle of running and arranging maintenance & servicing of your vessel. This is an opportunity to be a part of a professional yacht syndication programme which gives clients a complete yachting experience without the added stress or hassles of traditional boat ownership.

The Syndicate Offers:

54 Days Use Per Year
Unlimited Standby Days-Simply Call on the day - if the boat is available you can book for a nominal fee (conditions apply)

The Luxury Comes at a fraction of the cost:
As you share the expense of owning the boat with multiple shareholders the individual expense of owning the boat goes down considerably. All you need to do is make your booking and enjoy. Your boat will be kept and ready to go. Your free time is yours to spend out on the water enjoying your boat- not looking after it.

Your boat will be professionally managed all servicing, regular checks, cleaning and maintenance will be taken care of. You turn up. You walk onto a clean, well- maintained boat complete with fresh linen ready to go. You sail away. And you unwind and relax. On your return to the marina you hand your boat back and head 
home.

New to boating? Limited experience? We can support you!
We offer a comprehensive handover to every new owner. Training can be arranged or professional skippers accompany you until you have gained sufficient experience and confidence in your handling 
abilities.

Shares in NZ Boat Share GT40-1 Ltd are currently been offered by 36 Degrees Brokers Ltd (36 Degrees). The product disclosure statement including the application form for the offer can be obtained by emailing or calling 36 Degrees or searching the Disclose Register using Offer Number (OFR12423). An annual use charge and rules relating to the allocation of boat use will apply.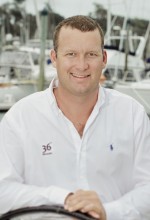 For Full Inventory Contact:
Conrad Gair