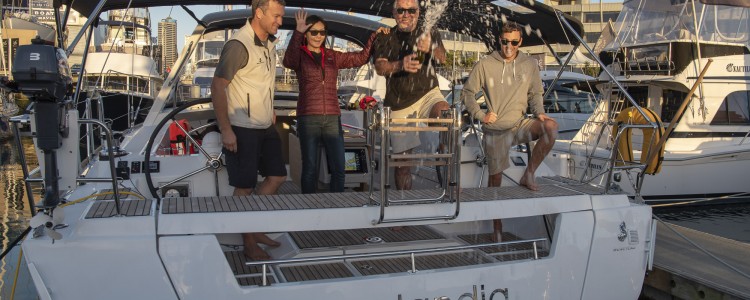 Uncompromised cruising for new Beneteau owners
2 June 2018 | 36 Degrees News
There's plenty of perks to buying a new boat. 
As happy new Beneteau owners Michel and Jennifer Molliet have recently discovered, "there's no compromises. You get exactly what you ask for."
This was one of the major attractions for the couple who sailed into Opua last month on their newly commissioned Oceanis 45, and Michel still firmly stands by their decision to buy new.
"With a second-hand boat there's always something you're not 100% happy with, or wouldn't have chosen yourself.  But this way, you can customise everything, right down to the colours, cabinets, and interior details," he explains.  
With a house in Russell and their 'on water home' now permanently based in Opua, the Molliets say becoming boat owners has been a very advantageous lifestyle choice for them - and hasn't cost them the world.
"When we started looking into it we realised it was more affordable than initially thought. And for us, it just makes sense. The boat is like a second home which we can go away and enjoy cruising this beautiful area on," he adds.
With plans already on the horizon to explore the coastline and possibly further offshore in the coming years, Michel says the 45 is the perfect boat for their needs.
The Molliet's have an interesting story to their sailing background, having taken up the hobby only seven years ago.
"We had no prior sailing experience. After completing a course in the Bay of Islands, we knew it was a lifestyle we both enjoyed, and have been learning ever since. The decision to own a boat of our own that we could cruise independently on has been a long term goal," he explains. 
The pair had explored multiple options for production builds when they were in the initial researching phase, and says Beneteau's package's appealed the most.
"We were at a boat show in Hong Kong and the 41 and 45 were moored right there alongside each other. We spent hours hopping from one to the other to get a feel for both of them," he laughs.
Eventually, the hull with bigger volume won out over the 41, and Michel says he's still immensely happy with their final choice.
The Beneteau Oceanis 45 arrived in Auckland earlier this year and the 36 Degrees Services took charge of preparing the boat for her maiden voyage.
Company owner Conrad Gair and broker Russell Hopper joined Michel and Jennifer for their delivery northwards after a ceremonious handover and popping of champagne in Westhaven.
"They really have gone the extra mile to make sure we were satisfied with the end result, and the relationship is ongoing. We feel like we still have constant support and are very grateful for the help also received up here in the Bay of Islands with the office staff up here," he adds.
The new evolution of the Oceanis 45 has just been released with Beneteau announcing the launch of the Oceanis 46.1.
For more information about ordering new, or commissioning through 36 Degrees Brokers please feel free to get in touch with the team.