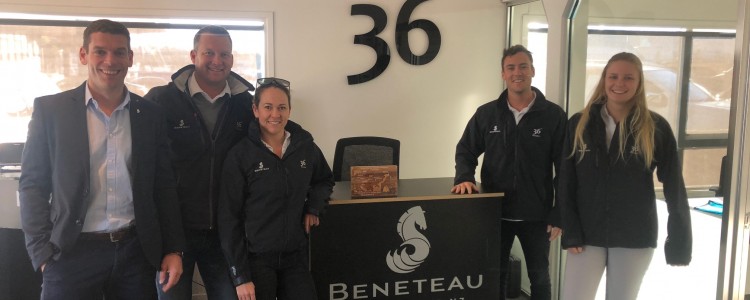 Performance driven Kiwis; A visit from Beneteau Group Asia
29 May 2018 | 36 Degrees News
More kiwis are looking for ways to optimize their boating experience as the market for performance yachting in New Zealand grows. 
Sales Manager for Beneteau Group Asia, Vianney Guezenec, suggests there are several reasons for the shift towards highly spec'd boats and says Beneteau has definitely recognised this demand. 
"The Americas Cup, for one, has drawn the attention back to performance monohulls, and the historically strong sailing culture has a big impact on what's happening in this market," Vianney notes.  
Recently in New Zealand as part of a distributor visit to Southern Hemisphere regions, Vianney also says the best way to understand what's going on locally is to be on site. 
"We're always interested to see how our products and boats are being used, and what people are asking for. It's a big part of how our production builds continue to innovate through each range, and suit markets across the world," he notes. 
Beneteau has always striven to pave the way for new models and innovative designs, and a prime recent example is the one-design foiling monohull, the Figaro 3. 
"The Figaro 3 shows the type of innovation and forward-thinking we expect kiwis will enjoy. We're proud to have been the first to create this type of boat, and use the same concept of forward thinking to our design process on boats across the ranges," he says. 
There has also been a shift to provide New Zealand buyers with the option of a 'Performance Pack' for specialized versions of Oceanis models. The first of these has already been welcomed to New Zealand with the performance 41.1 being commissioned to a Tauranga buyer last month. 
36 Degrees Brokers owner Conrad Gair says it's great to have the support of a global network to fuel their market demands. 
"We're able to offer our buyers more choice than ever before across both power and sail ranges. It's fantastic to work alongside a company that takes into account the needs of each specific region," he says. 
Along with reinforcing the continued support from Beneteau to ensure buyers are satisfied with each commissioned boat, Conrad says it's fantastic to provide New Zealanders with the latest offers, updates, and trends from around the world. 
For more information about performance packs offered through Beneteau please click here.
Keep up with all the exciting developments from Beneteau and 36 Degrees Brokers by subscribing to our newsletter or following us on Facebook and Instagram.