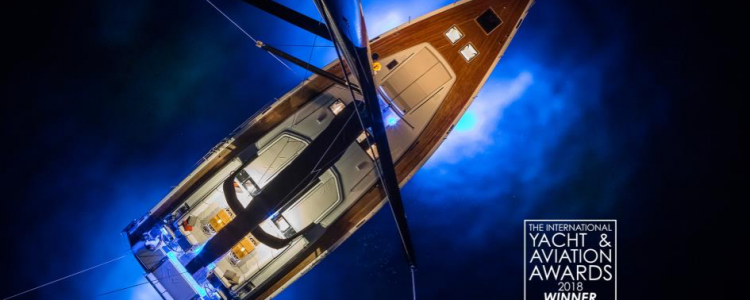 Awards keep coming for Oceanis Yacht 62
29 May 2018 | Beneteau
The Oceanis Yacht 62—the first-born of Beneteau's Oceanis Yacht range—was named 2018 Sailing Yacht at the 8th edition of the International Yacht & Aviation Awards in Venice, Italy on May 18th, 2018.
Jointly organized by two leading magazines Design et al and Luxe et al, the International Yacht & Aviation Awards celebrate the world's best design schemes, product launches, and innovations by creating an opportunity for designers, naval architects, shipyards, private jet manufacturers, and product designers to showcase their work.
This is the sixth recognition for the Oceanis Yacht 62 since her official reveal to the general public in 2016. In 2017 she won the highest accolade in the marine industry—the European Yacht of the Year. On March 19th, she was named among the Best Sailing Yachts at Robb Report China's annual BEST of the BEST Awards. 
Pierangelo Andreani, Oceanis Yacht 62 interior designer
The Oceanis 62 opens the door to a new world in which space, light, and design come together to transform life at sea. Different from the traditional Oceanis range, this new luxury model represents boats combining style, innovation, and lifestyle in one production vessel.
The design and styling are the result of a collaborative approach between Berret Racoupeau Yacht Design and the Italian designer Pierangelo Andreani. The Oceanis 62 features a horizontal line and a high-performance hull. A spacious saloon with separate spaces for privacy is the yacht's signature layout. The fresh atmosphere is enhanced by carefully selected materials, creating an air of originality.
With a chined hull, twin rudders, and a perfectly centered sail plan, the Oceanis 62 is a truly exceptional boat, whose aft platform is designed like a terrace on the sea. The beautiful cruiser is easy to maneuver, and is designed for a safe and comfortable sailing environment.
The model has gained huge popularity among sea lovers across the world, and has also won accolades from the industry. Her great success once again exemplifies Beneteau's long-term commitment to building boats with passion and innovation.
For more information on the Oceanis Yacht 62 please click HERE.