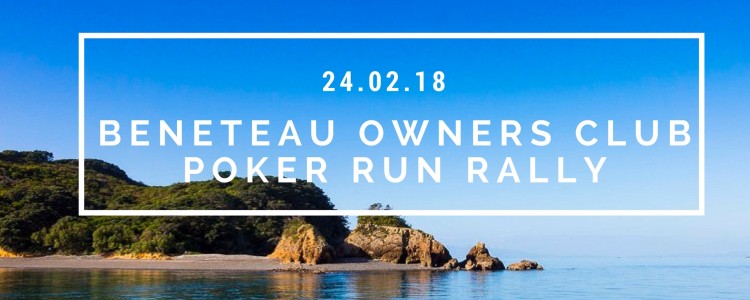 Register for the BOCNZ Poker Run Rally
13 February 2018 |
Need an excuse to get out on the water for a day? The annual Beneteau Owners Club NZ Poker Run Rally is about to set sail and we'd love you to join the fun. It's a fantastic chance to dock off from every day life and enjoy a leisurely cruise from Auckland to Waiheke, with some fine wine and warm hospitality to enjoy while you're at it.  
The Rally kicks off on 24 February and is hosted in conjunction with PIC Insurance Brokers. Starting from Bean Rock, the idea is to reach Man-O-War Bay on Waiheke Island by 3pm, passing five waypoints to collect poker cards on the way. These will be delivered to you via our tenders with friendly brokers and 36 Degrees crew onboard.
See the programme below:
Entry Details:
The registration fee for is $25 per person includes: Wine Tasting, Food Platters & Prizes
(Under 18 free).
One poker hand per vessel.
Prizes:
Mystery elapsed time (chosen on the day)
Selection of prizes from Poker hands, use your hand to bid for a prize
Spot prizes
The Beneteau Owners Club NZ is in it's second year running. With the idea of bringing together owners who share common enjoyment in having Beneteau designs, the community is growing as the word spreads. 36 Degrees Brokers is able to provide you with the latest updates and innovations from Beneteau, and host a forum of discussion through our Facebook page. With events scheduled throughout the year, there are opportunities to meet other Beneteau owners as well as talk about services or maintenance on your vessels.
For more information on this and to sign up to our mailing list please feel free to drop Raynor a line and say hi.