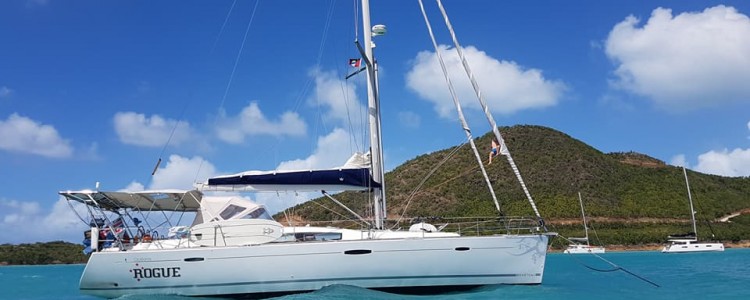 Life aboard with the 'Rogue' sailing family
16 February 2018 | 36 Degrees News
When it came to selling up their home and embarking on a world wide ocean adventure, New Zealand couple Josh and Sara Tucker gave much consideration to purchasing their 'family cruiser'.
The pair have worked within the New Zealand marine and sailing industry for many years and had a fair idea of what they wanted in an off-shore capable cruising yacht that would accommodate them and their three young boys while still performing under sail.
"Selling everything to fund this family adventure around the globe meant that the boat purchase was a big deal for us. We needed to know we wouldn't have any major issues, and that resale wouldn't be a big problem when the time came," Josh explains.
For them, this boat was a 2007 Beneteau Oceanis 50.
Ultimately, Josh says the decision came down to price, what the boat came with, and the Oceanis's reputation as a reliable offshore cruiser. The performance element was definitely taken into consideration, and he was also impressed with the amount of space on board and the features throughout.
Although the 2007 Beneteau model was already set up for offshore sailing, Josh was keen to make some modifications that would make their journey easier.
"She already had a watermaker, watt and sea hydro generator, the arch on the back with 450 watts of solar, and dinghy davits. We've since added the usual offshore systems like an upgraded vesper AIS unit, bigger stereo (of course), wind generator, iridium go-wireless sat network, new batteries, new manson anchor and many other things."
Since picking up their boat which they then re-named 'Rogue' in the South of France last year, the Tuckers have cruised the Mediteranean, crossed the Atlantic, and are currently in Antigua as they continue to cruise in the Caribbean.
They've already had plenty of adventures and explored a number of countries while carrying out schoolwork, boat work, and family life aboard. With 5000 nautical miles now under their boat, Josh says they've had a bit of time to appreciate the features on board.
"We enjoy the L shaped galley layout with its twin sinks and plenty of bench space. It works well both offshore and on anchor. Same with the cockpit layout. Great for entertaining as well as sitting out a watch offshore," he says.
Like any offshore adventure, there's been highlights and challenges along the way. One of the memorable moments was reaching 15 knots boat speed.
"As racers we do love speed so were pretty stoked to see that the boat can be good fun downwind in good conditions," says Josh.
This was also backed up during their 12-day Atlantic crossing with the odyssey rally where they hit many 200 nautical mile days and were the first to dock into Barbados well ahead of most of the fleet.
When talking about the more challenging aspects of living aboard, Josh says these are mainly related to power. 
"Living on board with kids is power hungry, with computers, TV's, lights, and having to run the water maker regularly to top up the water tanks. Kids use a lot of everything and we have three boys on board ages 5,7, and 9. It can be a drain on every resource!" he explains. 
Fortunately their 450 watt of solar, a hydro-generator, and wind generator mostly keep up with the demands, and he says not having a generator has actually been a blessing as their manual systems are simple and easy to maintain. 
"We have seen many friends stuck in places waiting for parts to fix the generator, expensive in both time and money- both things that are often short for cruisers with relatively short cruising seasons in many locations and no income," he explains.
Long term, their plan is to sail the boat back to New Zealand through the Pacific. Their next stop from Antigua will be to St Martin for the Heineken Regatta, then the BVI's before venturing on to Panama and then across the Pacific to French Polynesia.
They are documenting their journey along the way, with great photos, videos and updates posted to their Facebook Page. 
Beneteau continues to move forward with design and innovation on this popular size of vessel for family cruising. The Beneteau Oceanis 51.1 was dubbed 'Yacht of the Year' at the Genoa Boat show last year, and was also nominated for European Yacht of the Year 2018.  As with any Oceanis model, the build standard is of the highest quality, and comes at a very competitive price. Click HERE to check out the fantastic photo gallery and video.