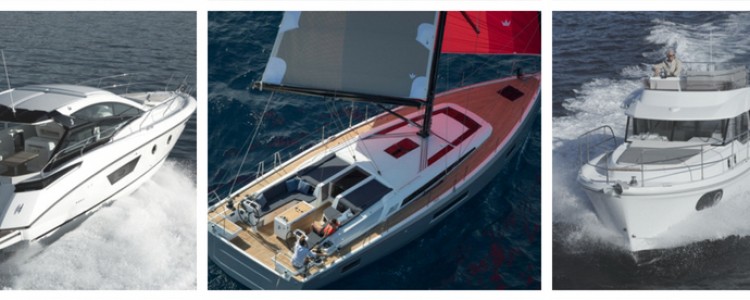 Join us at the Auckland-On-Water-Boat-Show 2018
21 August 2018 | 36 Degrees News
The NEW Generation Beneteau Oceanis 51.1 is bound to turn heads in her New Zealand debut at the Auckland-On-Water-Boat-Show from 27-30 September, and will be joined by the chic and sporty Gran Turismo 40 along with the Swift Trawler 30. There are plenty of design innovations to experience and our friendly team of brokers will be only too happy to talk you through their features. If you're wanting to see more, we'll also have a line up of extra Beneteau models and brokerage vessels to view by appointment at Pier 21 alongside our office. 
NEW Generation Beneteau Oceanis 51.1
This first in Beneteau's seventh generation of Oceanis features taut lines, a new stepped hull, and stylish deck plan. The Oceanis 51.1 replaces the Oceanis 48, and is ultra-customisable while being bang on trend. Target markets are covered through three base versions, with the 'First, 'Easy', and 'Comfort' packages all tailored to the individuals taste. This clever presentation by Beneteau ensures performance sailors, cruiser-racers, and pure cruisers alike can get the most our of their model.
Beneteau Gran Turismo 40
A sport-cruiser with classy sharp lines and all the creature comforts needed for luxurious living is summed up in Beneteau's stunning Gran Turismo 40. Featuring the highly innovative Air Step 2 Hull Design technology, this beauty is fast as well as fuel efficient. Expert Italian interior designers have created beautiful spaces to enjoy inside, with a stunning master cabin and plenty of storage throughout. The GT40 is a beautiful blend of speed, comfort, and stability, and can be loaded with extras for the ultimate in boating experiences. 
Swift Trawler 30
As the smallest of the Swift Trawler range, the 30ft model is a sweet-looking number which has all the perks of being a part of this clever and economical Beneteau collection. This Swift Trawler is perfect for a couple or small family, and has fantastic features to make onboard living comfortable and fun, with key features including asymmetric decks, European styling, and a split transom to extend cockpit space. With two layouts to choose from, this can easily cater for different groupings.