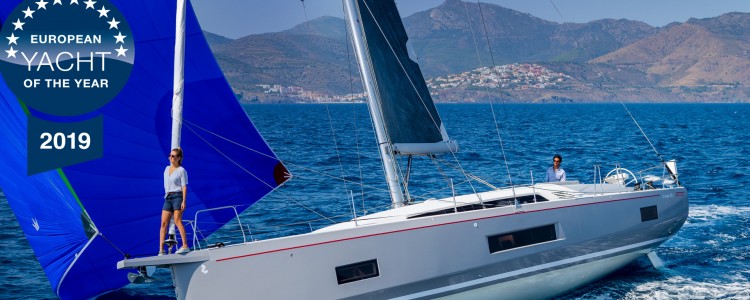 High praise for Oceanis 46.1 claiming European Yacht of the Year 2019
1 February 2019 | Beneteau
Beneteau's NEW Generation Oceanis 46.1 continues to impress with the most recent of accolades being named European Yacht of the Year (EYOTY) in the "Family Cruiser" category during the Dusseldorf Boat Show in January. 
This marks the third year running where a BENETEAU sailing yacht has been named one of the top boats by the EYOTY jury, and the 46.1 was praised by the panel for it's high performance qualities and incredible helm sensations. 
The suspense for the 19 yachts in the 5 categories competing for the European Yacht of the Year came to an end on Saturday 19 January. The panel of journalists from a group of European magazines gave its verdict at the "Flagship Night" ceremony. 
The Oceanis 46.1 designed by Pascal Conq (Naval Architect) and Nauta Design (Deck and Interior Design), confirms the success of the new generation of Oceanis yachts. 
Gianguido Girotti, Managing Director of BENETEAU, at the prize-giving with Pascal Conq and David de Prémorel from the Finot-Conq office, Clément Bercault and Damien Jacob from Beneteau, as well as the master of ceremonies.
The NEW Generation Beneteau 46.1 smart design is perfect for coastal cruising or heading further offshore, and she boasts many attributes which will appeal to the New Zealand sailor. 
36 Degrees Brokers will soon be offering the chance for interested parties to view the 46.1 right here in New Zealand as the first model in this generation makes it's way to our shores. 
For more information and to request pricing please contact the 36 Degrees Team today.