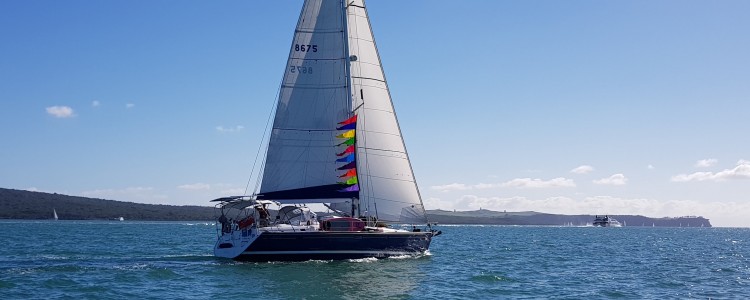 Great success for the 2018 Beneteau Owners Club Rally
28 February 2018 | 36 Degrees News
Sunshine, boating, wine-tasting, and a fabulous group of people made the 2018 Beneteau Owners Club Rally a fantastic success this month.
Hosted for the second year by 36 Degrees Brokers and PIC Insurance Brokers, the rally from Auckland to Waiheke was a superb showcase of what the Beneteau Owners Club NZ is all about.     
Seventeen boats entered the event and set off for Man-O-War Bay on 24 February with the summer sun and gentle breeze making perfect cruising conditions.
After a leisurely arrival and swim ashore around 60 people joined in the afternoons activities which included wine-tasting, nibbles, and the much anticipated poker game.
Many of the participants noted that it was great to "meet such a wonderful group of people" and thanked the sponsors for their efforts in supplying prizes and making the day a dynamic and sociable affair to be part of.
"This is what the club is all about. Not only are Beneteau owners getting together and sharing the joy of owning one of these fine vessels, but they're also introducing friends and family to the world of cruising and opening up the Beneteau community in New Zealand," says 36 Degrees Director, Conrad Gair.
The day revolved around an idea to deliver poker cards at certain waypoints on route to Waiheke Island, which could later be used to bid for prizes at Man-O-War winery.  
This added a unique dynamic and gave participants a chance to enjoy some of the fabulous prizes supplied by our sponsors.
36 Degrees, Family Boats and PIC Insurance would like to heartily thank all the sponsors for their support in making the day a huge success, and recommend their services to all.
The Beneteau OwnersClub is now in it's second year and we'd love to keep spreading the word for more owners to join the fun. It's a great forum for cruisers to share their experiences and attend events and participate in activities just like the rally.
To keep up to date with what's happening in the world of Beneteau as well as eventshappening here in New Zealand head on over to our Facebook page and give us a like.