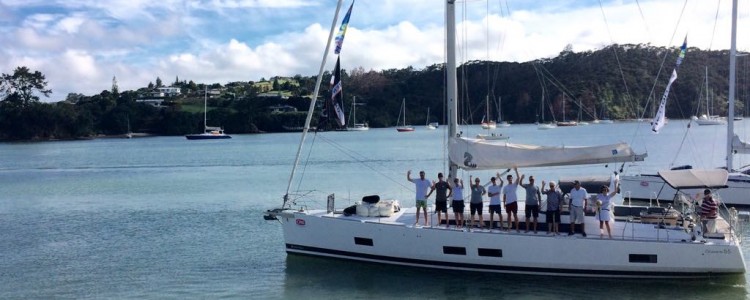 Cruisers-come-racers experience Bay of Islands Sailing Week
29 January 2018 | 36 Degrees News
Cruisers at heart, Greg and Jane Lowe are big advocates for the creature comforts their Beneteau Oceanis 55 provides.
The elongated saloon windows, spacious living areas, and hydraulic swim platform are just some of design features which the couple have enjoyed over four years cruising 'Fresh Venture' throughout New Zealand during their holidays.
This month, the Lowes experienced their yacht in 'regatta-mode' by competing in Bay of Islands Sailing Week (BOISW) alongside over 100 other entrants. 
Greg says the opportunity to participate in the premiere event meant they could really test the performance elements of the boat as well as accommodate their crew in absolute comfort.
"We saw some good speeds on board, especially during the first day when we were doing 10 knots downwind in just 12 knots of breeze. It shows that we can be very efficient and stay on the pace given the right angle," he explains.  
Along with 36 Degrees brokers staff members, family and guests, Greg and Jane enjoyed three days of island racing in their 15-strong fleet, finding an extra gear in the Beneteau they hadn't experienced during their time spent cruising.
"We've always been about enjoying the journey and taking out friends and family. We hadn't thought about doing any racing when we first bought the boat," Jane explains.
Prior to purchasing 'Fresh Venture', Greg had spent 20 years working in the Royal New Zealand Navy. The decision to purchase a sailing yacht had stemmed from a passion for the sea as well as a long term goal to eventually go offshore and cruise around the Pacific Islands.
Because they were both new to sailing, Greg says their choice to buy a Beneteau was influenced by the design and practicality which gave them confidence in their yachting endeavours.
"When we first looked at the Oceanis 55 there were a few things that we really liked. Firstly, the cockpit layout had all the lines running back to the helm stations, which means all the sailing can be easily managed with just the two of us onboard. There is great volume throughout the boat also which is due to the hard chines and hull shape. It's very spacious downstairs and the big hull windows also mean there's plenty of natural light," he explains. 
One other factor which was also appreciated during BOISW was the lightness of the helm, again influenced by the design, rig set up, sail plan, and efficiently trimmed sails.
With up to 12 people on board during racing, Jane says the space on deck as well as below means it can hold a fair few people without feeling crowded. The swim platform also attracted a bit of use from crew who enjoyed a quick dip while waiting for racing to begin.
With their first regatta in their wake, Greg and Jane will continue cruising around New Zealand and plan to one-day head further afield and spend a season in the islands.
"Eventually we'd like to sail to Fiji or somewhere like that and cruise around the Pacific with friends coming to join us. That's definitely on the long-term agenda," says Greg.
Two years after owning the boat the Lowes were interviewed by Boating New Zealand Magazine about their favourite features. Click here to watch the video. 
Since the launch of the Oceanis 55, Beneteau has since designed the next version, the 55.1. Equipped with performance sails, this version still includes the important innovations but in a tauter profile, with retractable davits on deck and an in-mast furling system.
For more information on this model please click HERE.
To be part of our Beneteau Owners Club in New Zealand please follow our Facebook page for news and updates.