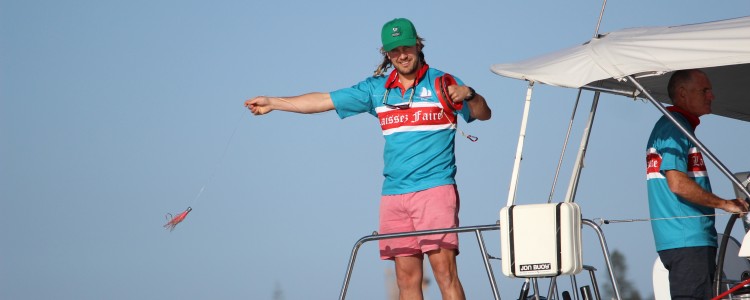 'Cruise Mode' embraced in the 2018 Coastal Classic
23 October 2018 | 36 Degrees News
Catching fish, using 'proper' coffee machines, and serving up roast meals was all part of the fun in the 36 Degrees Brokers Cruising Rally in the Coastal Classic this year.  
In only it's second year running, the rally has grown from eight entrants to 19 participants this year; an increase which 36 Degrees Brokers owner Conrad Gair says is very exciting to see. 
"It's awesome to see the growth in popularity. It's a great way for cruisers to enjoy and experience this event and still be able to use all the creature comforts their yacht offers. With five hours of allowed engine time, it also gives boats options as to how they want to complete the race, and I think this was especially appreciated this year given the light wind conditions" he explains. 
An addition to the race this year was a designated start time, with a start hooter at 815 hours from the 36 Degrees staffed vessel off Devonport. Whilst it wasn't compulsory for cruisers to take part in this start, Conrad says it was impressive to see the amount of boats which did want to be involved.  
From a Nova 28 and a Carpenter 29, to a Beneteau Oceanis 60 and an HP68, there was certainly diversity amongst the fleet. 
"It is pretty cool to see 19 cruising boats of all shapes and sizes set off together out of the harbour. That's part of the beauty of this division that it's all-inclusive," he adds. 
The fleet all arrived into Russell throughout the early hours of Saturday morning, the last boat docking in at midday in time for the prize giving and celebrations later that evening. 
A storytelling photo competition run throughout the duration of the race saw some great crew updates, from caught fish to sunset pictures, to cheese platters at dusk and sleeping skippers. Congratulations to the crew aboard Cyclades 43.3 'Dream Weaver' for taking this out with their great sundowner picture. Check out all the photos in our Facebook Album. 
We're already looking forward to next year's rally with plenty of good feedback as well as some great suggestions taken on board. 
Head on over to 36 Degrees Brokers on Facebook to see photos from the event, and be sure to like our page for future news and updates. 
Thank you to our fabulous family of industry suppliers and business friends for supplying a superb range of spot prizes for the division. These included goodies from Lusty and Blundell, Predict Wind, Doyle Sails, Family Boats, Boating NZ, Bay Of Islands Parasailing, and Makana Confections.   
If you've got any thoughts from the rally, or questions about how it all works, please feel free to drop hana a line – hana@36degrees.nz.