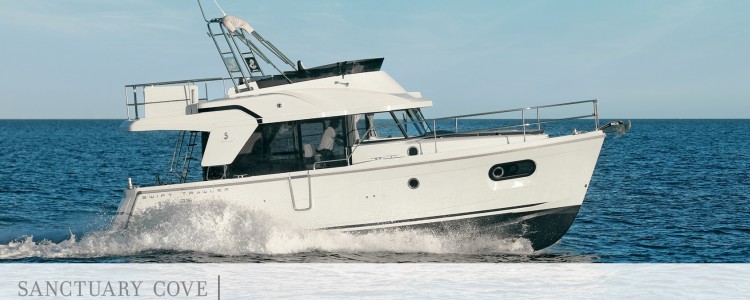 Beneteau gears up for Sanctuary Cove International Boat Show 2018
23 May 2018 | Beneteau
Set against the spectacular backdrop of the Marine Village at Sanctuary Cove on Australia's Gold Coast, the highly-anticipated Sanctuary Cove International Boat Show (SCIBS) will celebrate its 30th anniversary this year from May 24th to 27th. Beneteau will be presenting a fleet of seven models covering four popular sailboat ranges, as well as outboard and inboard motorboats. The four-day event will feature world-class marine displays, and Beneteau will be exhibiting small and medium-sized boats for a diverse array of visitors.
As the highlight of the exhibiting fleet, the Swift Trawler 35 will have her Asia-Pacific premiere at SCIBS 2018. The 35 is safe and easy to maneuver, with an impressive number of protection measures onboard. The flybridge and the spaces on and below deck have been smartly designed to create bigger and more comfortable living areas. Her sister model — the 44 — will also appear at the show. 
Beneteau's long-distance cruising range, the Swift Trawler line, includes the Swift Trawler 30, the Swift Trawler 35, the Swift Trawler 44 and the Swift Trawler 50. In countries like Australia and New Zealand that enjoy a plethora of marine resources, many boat owners dream of cruising along expansive coastlines on trawlers with much faster speeds, easy-handling, and stability at sea for long hours. Beneteau's Swift Trawler range has proved to be a huge success with its high-performance vessels replete with contemporary features. Currently, more than a thousand Beneteau Swift Trawlers have taken to the waves around the world.
Australia has a huge market for outboard motorboats. Two popular Beneteau models from the highly-dynamic Barracuda fishing boat range will be on display at SCIBS 2018. The Barracuda 7 comes in two versions with different layouts, while the Barracuda 8 is spacious and highly seaworthy. The Antares 8 OB — a multi-functional day boat — will also make an appearance     
In the sailboat category, the Oceanis 35.1 and the Oceanis 45 will be exhibited at the show. Both models combine performance and comfort at sea, offering different interior layout versions.  
SCIBS 2018 will host an Asia-Pacific premiere and several popular innovative models featuring expert craftsmanship, jointly presented by Beneteau's local dealer Spirit Marine and Flagstaff Marine. We warmly invite you to visit our line-up and experience the next wave of innovation in the boating industry.


Visitor info for SCIBS 2018

Dates: May 24th – 27th,
Venue: Sanctuary Cove, Queensland, Australia

Booth No: Pier E


Beneteau Sailboat presence:
 Oceanis 35.1 – Oceanis 45

Beneteau Outboard Motorboat presence:
 Antares 8 OB 
Barracuda 7 – Barracuda 8

Beneteau Inboard Motorboat presence:
 Swift Trawler 35 – Swift Trawler 44