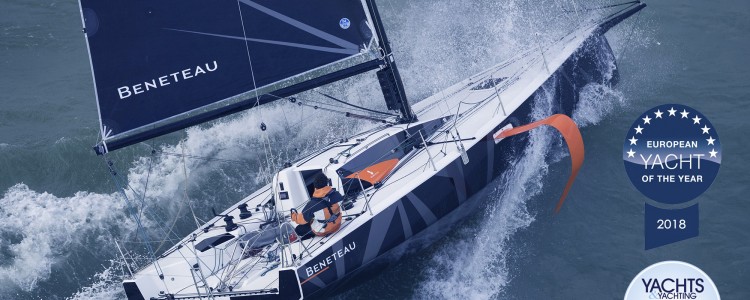 A Triumph of Innovation; Figaro Beneteau 3 wins applause
1 February 2018 | Beneteau
Shortly after the Figaro Beneteau 3 (known as the FB3) received a prestigious award in Britain, she added to her accolades by being elected the European Yacht of the Year in the Special Yacht category at Germany's Boot Düsseldorf 2018. Considered to be the Oscars of the marine industry, the European Yacht of the Year ceremony is a heavy-weight awards program that recognizes the most innovative and well-built new yachts. It is a tremendous honor for boat builders.
The legend of the Figaro offshore racing boats can be traced back to the late 20th century. Iconic as they are, the first two generations of the Figaro Beneteau models have proved reliable and robust for top sailors competing in the Solitaire du Figaro. Nevertheless, the birth of the third generation—the Figaro Beneteau 3 is an ambitious project that has introduced the latest technological innovations on a one-design boat with global appeal. She is the world's first production foiling monohull.
Beneteau Group has gathered the best brains from the marine industry and has leveraged the influence of its various brands to meet the challenges of producing the FB3. Designed by world-renowned naval architectural firm VPLP, the model represents modernity, reliability, and performance. She is equipped with versatile foils, a higher-performing ballast-free hull, a more slender and deeper keel, a setback mast, and a more extensive and larger sail plan. The prototype FB3 has undergone a series of tests since July. Top sailors and editors from industry magazines have gone onboard for sea trials, and the feedback has been positive.
The Beneteau Group Racing Division has been created to optimize manufacturing and comply with the highest one-design standards. A dedicated construction site has been set up in Nantes-Cheviré in France, comprising around fifteen experts. 

The Figaro Beneteau 3 heralds a new era for production foiling race-boats. She will be the main attraction at the Solitaire URGO – Le Figaro in 2019, and is a great example of Beneteau Group's determination to forge ahead with innovation backed up by performance. Stay tuned for more exciting news about this model.